Downtown Boston Design Guidelines
These design guidelines are the result of a joint study between the Boston Redevelopment Authority (BRA) and the Downtown Boston Business Improvement Districs (DBBID). They are intended to outline a vision that enhances the public realm of the District. Specifically, they provide design vision to the physical spaces within the district and propose material consistency in the public realm across the district.

The result of this study was a 200pg book outlining our recommendations through text, diagrams and renderings.
Design & Ideation, Pattern studies, Material Research, Diagrams, Renders, Photography & Graphic Design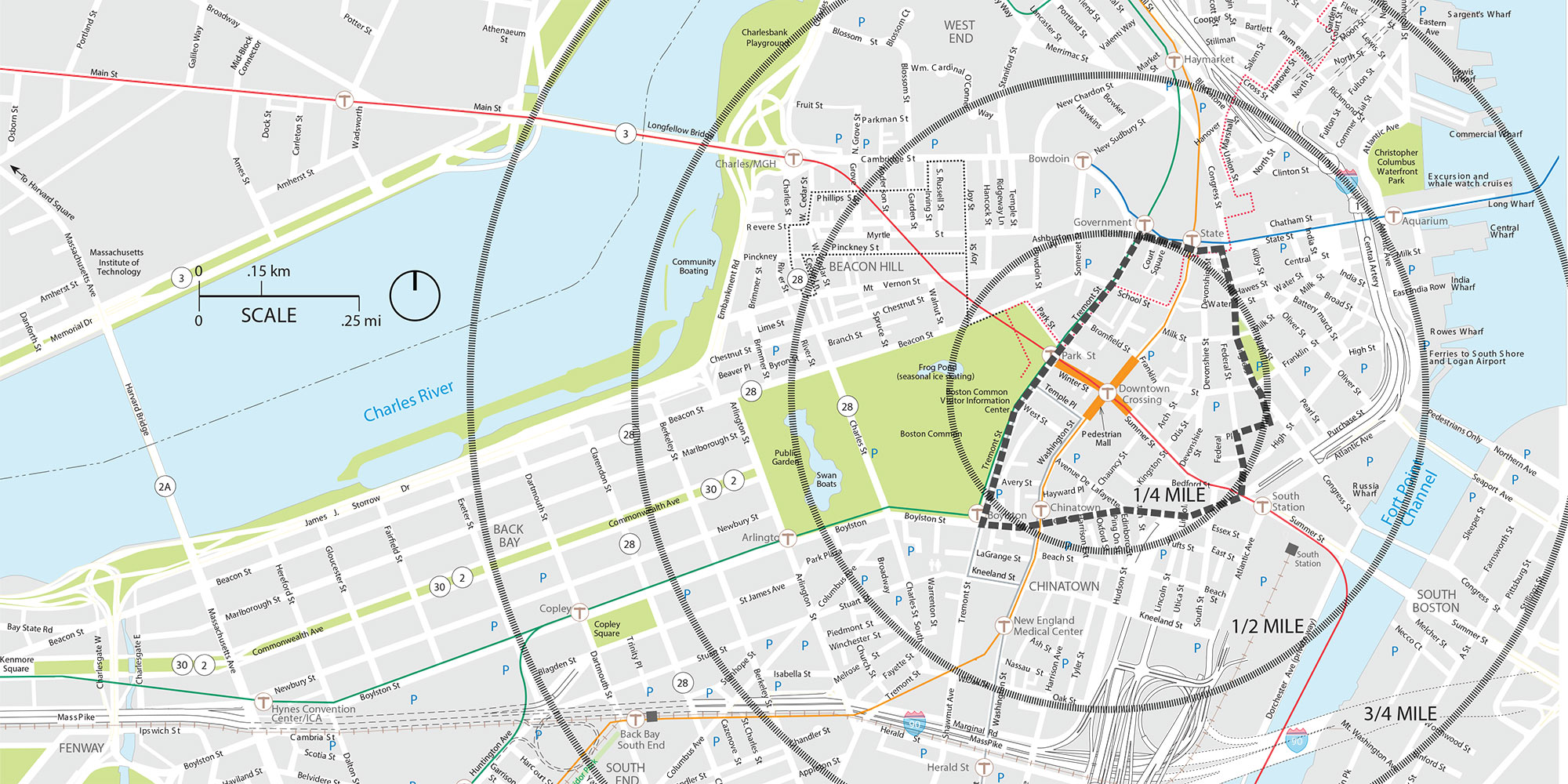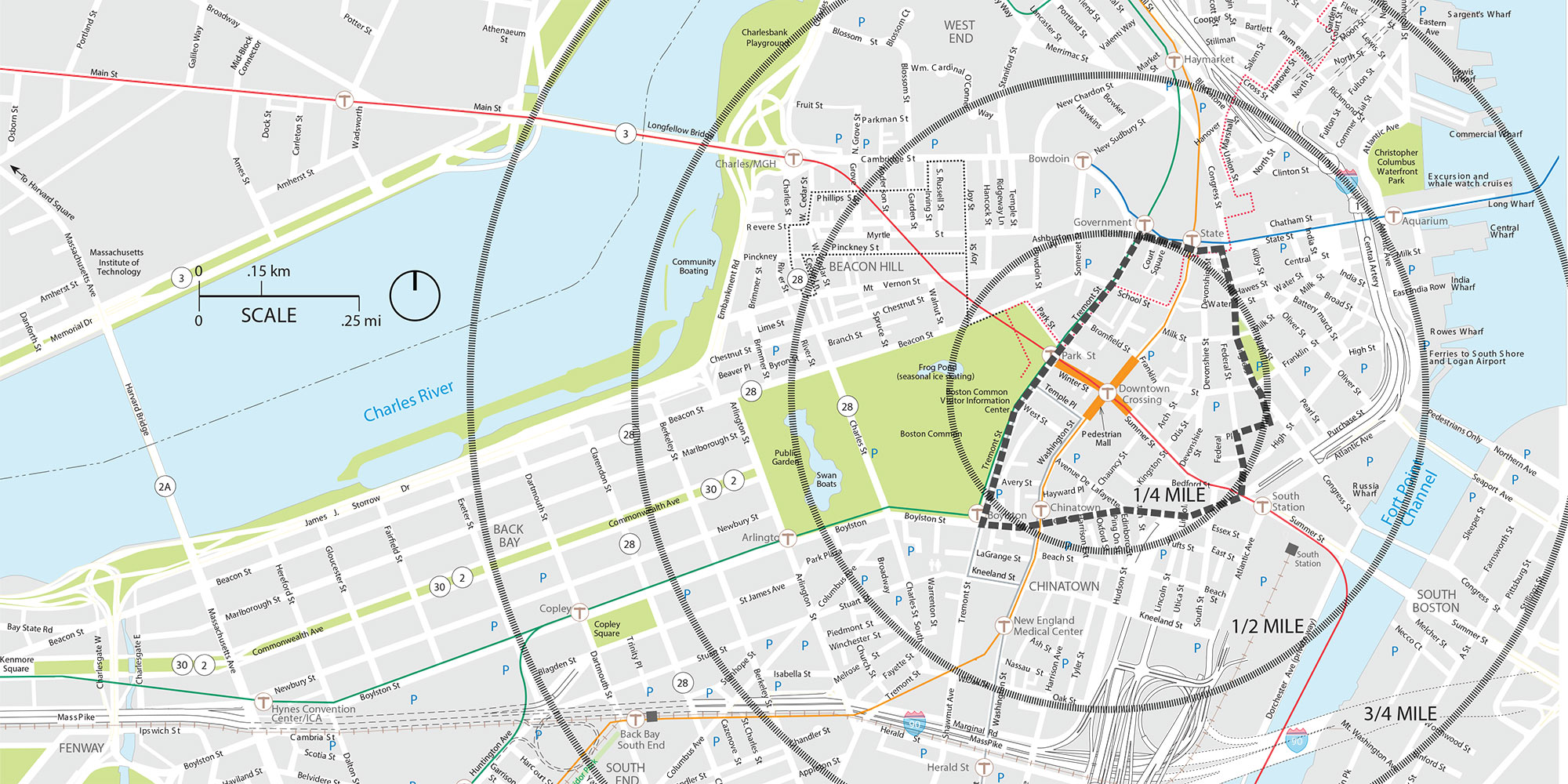 The study was divided into four distinct tasks, each looking at a specific set of urban design issues.
Pedestrian Zone
Task One proposed recommendations for the existing pedestrian zone of Washington, Winter and Summer Streets, the core of the district at Downtown Crossing.
Vending Strategies
Task Three proposed recommendations for the vending program within the BID, including locations, an analysis of strategies in other business improvement districts across the country, and best practices for vendor management and cultivation of a rich and vibrant vendor community.
Space and Materials
Task Two investigated materials, spatial relationships and specifications of the public rights-of-way within the district more broadly. Task Two also proposed various strategies to aid in identity of the district and build visual cohesion across the BID as spaces in the public realm are revitalized. Private property owners can use these guidelines in their decisions for materials and furnishings adjacent to the public realm.
Wayfinding
Task Four outlined a new wayfinding system for the BID designed to help visitors, employees and residents navigate the often disorienting street system while bringing a strong identity to the district through the presence of signs and informational kiosks that are distinctive to the DBBID.
PEDESTRIAN ZONE DESIGN GOALS
Improve the physical environment
Make an identifiable and vibrant place
Create uniformity in an irregularly-shaped space that is defined by varied building façades
Reinforce vehicle exclusion from the zone
Reimagine Boston's history of pushcart vending as an integral component to the street life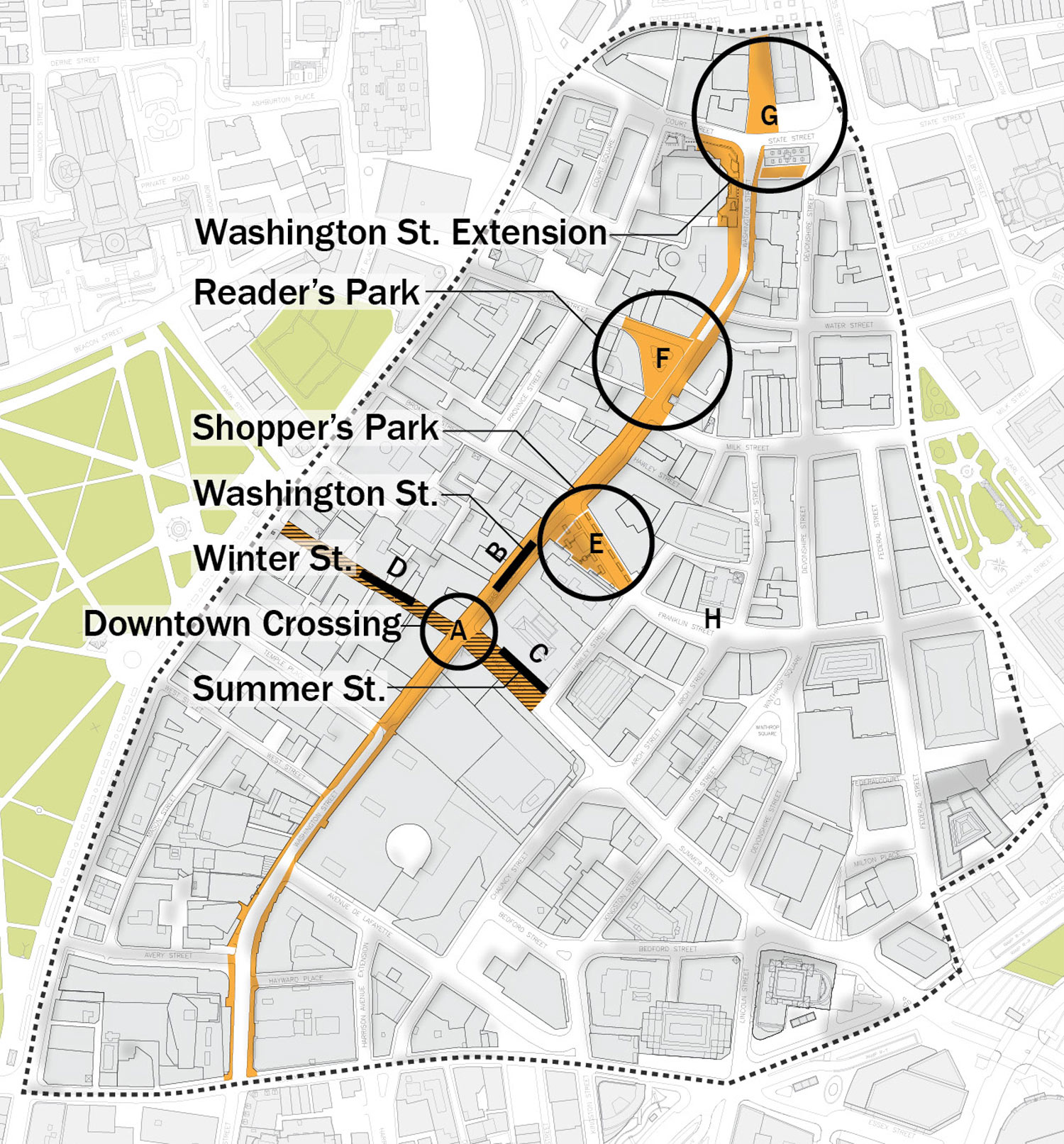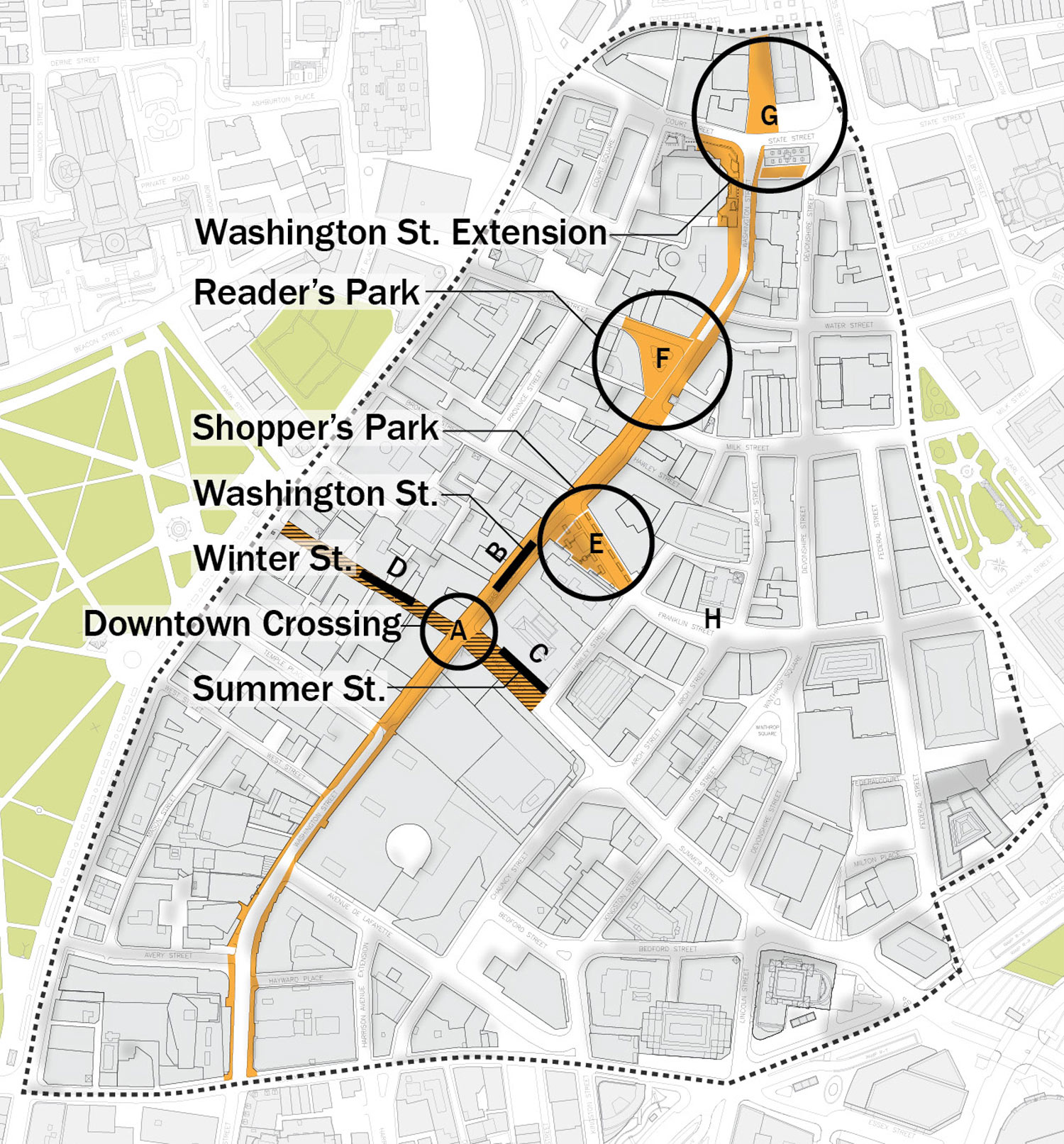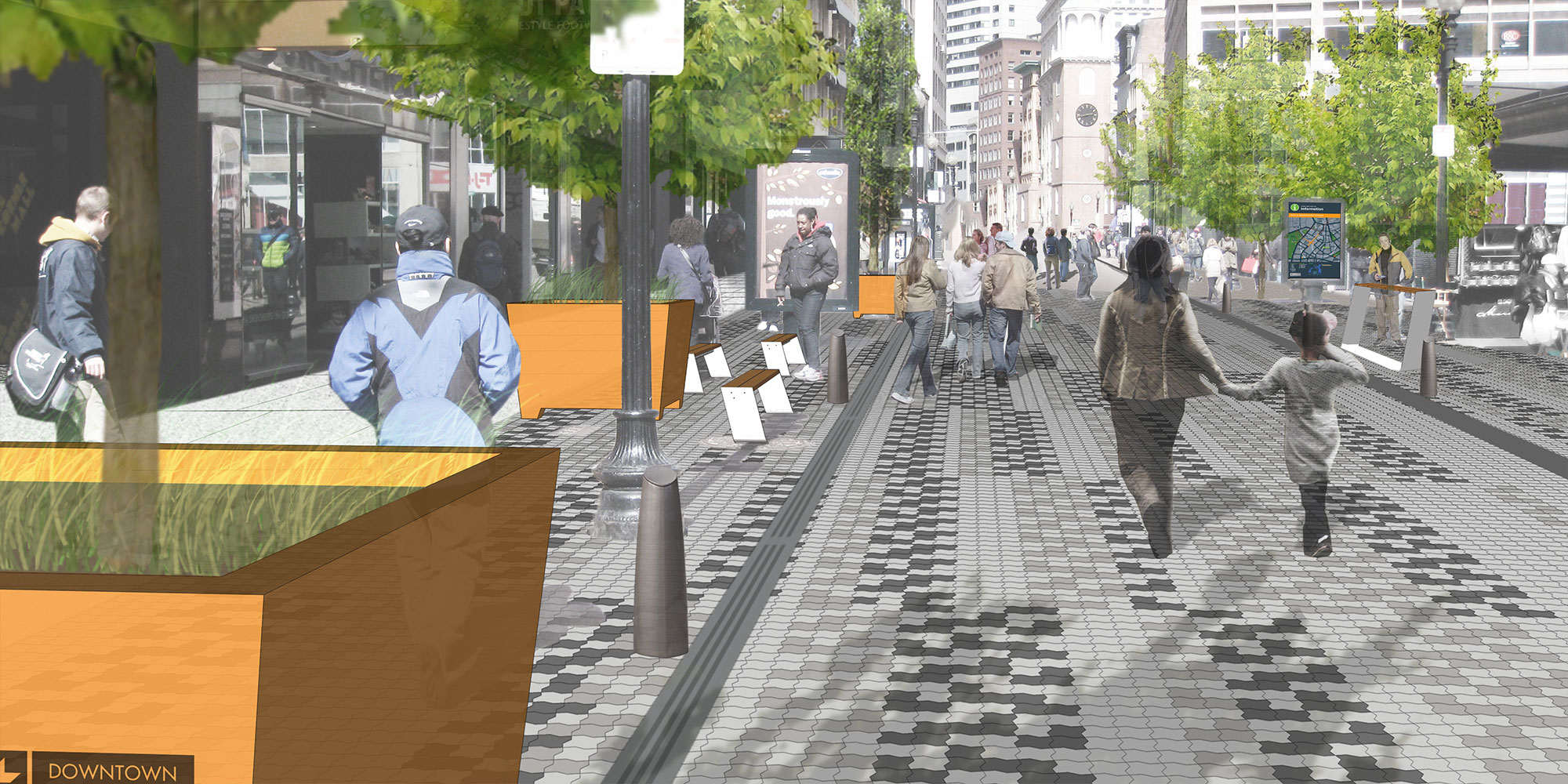 Above Before and proposed views of Washington St looking north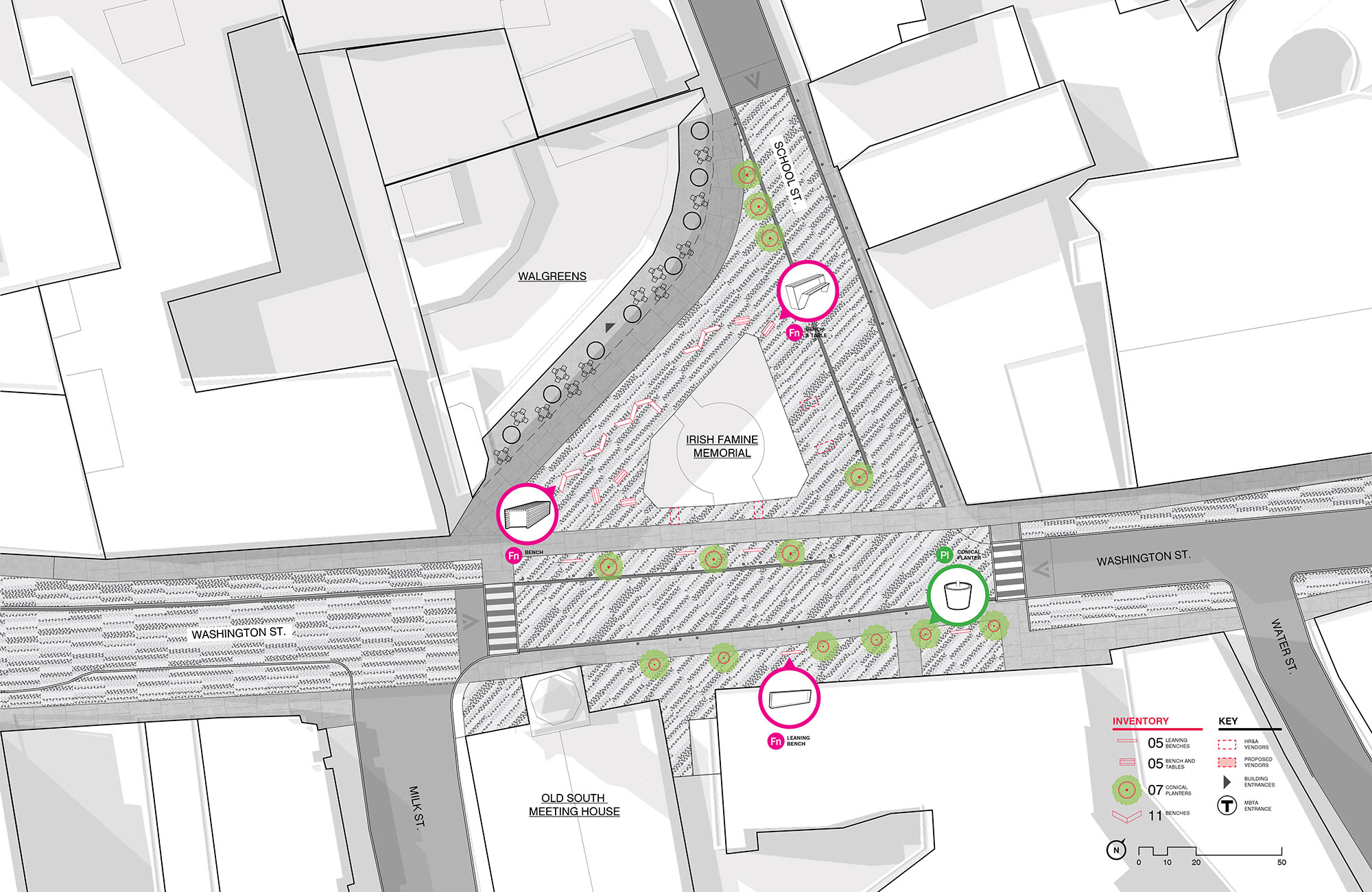 Above Proposed paving and furniture placement throughout the district